Grand Performances Pays Tribute to Nina Simone on July 5th
By Terelle Jerricks, Managing Editor
I really didn't expect Jonathan Ruddnick to come back with an equally important show this year after he put on the phenomenonal "Go With Gil" tribute to the iconic Gil Scott Heron. But he's doing it in tribute to the legendary Nina Simone in partnership with the incredible Dexter Story. Nina would have been 90 years old this year. This year also marks the 10th anniversary of her death.
Like last year, Jonathan will be using this tribute to show off Los Angeles musical talent pool. But to do it, he enlisted the help of Dexter, who has managed a lot of artists from coast to coast, served as marketing director and for record labels ranging from Bad Boy Records to a producer at Sony Music. He's also a multi-instrumentalist artist in his own right who has released a CD recently called Seasons. It seems that this year, Jonathan bought on a real heavy hitter with vision to pull off the Nina Simone Tribute.
It took me weeks to realize Jonathan weren't trying to release any details about the programming of the event before it happens. The next best thing I could was pick the brain of the visionary aiming to make this event happen.
To pull off an event like this, a Nina Simone tribute requires a great deal of love for Nina and her music and a vision. So I asked Dexter what three songs were the most important for her career and what three songs was most important to him.
After much deliberation Dexter named Mississippi Goddamn as the third song as most important for her career.
"I say Mississippi Goddamn because she performed it the most and she performed it all the time. I mean three songs, that's a tough one man. Because I want to put Four Women in there. I want to put I Want to Put a Spell on You in there. Those are the main ones right there. Now that I got those three. There's Doing Good, and I want to Put a Spell on You, and Mississippi Goddamn," Dexter named identifying the songs that was most important to him.
With writing and arranging more than 20 songs for this show, Dexter says that all of Nina's songs mean something to him but he had to make sure he included those six.
The Message
With a show such as this, there's usually an underlying message organizers want to communicate. In this case, Dexter wanted to break Simone out of the small perceptual box of jazz artist and really emphasize that she was a folk artist, primarily by way of the blues.
"I really want people to see that she was more than just a jazz artist," Dexter said. "There was a comment on Facebook about why I didn't include the jazz singers on the show. I was very surprised at the question.
"When I was asked to do this show, I didn't have in mind that this was going to be a jazz show."
Dexter cited Nina's 1992 autobiography, I Put on Spell on You, to support his contention that Nina didn't consider herself a jazz artist, but rather a folk artist.
"You think of the term 'folk,' it becomes more timeless," Dexter explained.
Indeed, the term "folk" is referential of the cultural roots of a specific people in specific geographical area. But it is also a term for artists that completely defy labels while speaking directly to the experience an audience. Nina's covered other American artist, as well as made her own politically charged music that spoke to the conditions of black people and her generation.
Often when we hear artist cite their musical influences, they would name drop legends like Janis Joplin, Frank Zappa, or Muddy Waters or somebody. Nina, however, is a legend among legends in terms of her contributions in expanding the universe of black music. Perhaps what's more important is her impact on generations of artists following her from neo-soul artists MeShell Ndegeocello and Erykah Badu. I would even argue for Jasmine Sullivan to be a part of that list.
Given Dexter's career in music and the number of important artists he's worked with through the years, I wondered who he would call the legitimate musical heirs of Nina Simone.
"Dwight Trible, MeShell Ndegeochelo, and Erykah Badu. Those three come to mind right off the top," Dexter replied.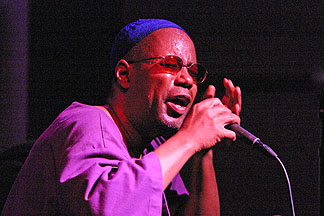 I expected Dexter to mention MeShell because of her body of work and the fact that he worked with her for a few during the time when she released Comfort Women.
"I'm love them both dearly," Dexter enthused. "They aren't afraid to go outside of the box…to color outside of the lines, to set a trend. They weren't afraid to touch people. They're not afraid to say no to the status quo and the system and forged their own path. They're also not afraid to pay tribute to their ancestors and their forefathers and fore-mothers."
Dexter noted that Nina covered a lot of other people's songs—perhaps to the detriment of creating more of her own music.
"She put out 40 albums between 1958 and 1978," Dexter said. "They are similar because they were unafraid to pay tribute to their ancestors. Now as a result, you find that Nina is now being celebrated and being covered as much as she covered people. I think you'll see the same with MeShell eventually."
July 5th Tribute
To prepare for the July 5 show, Dexter watched a lot of video clips of Nina.
"If she were alive I'd probably marry her. That's the closest you feel when you pay tribute to an artist. You watch them all day long and you listen to their music all day long. You put songs on repeat and you re-imagine the stuff."
For the event that's about to go down in downtown Los Angeles, only native Angelenos and transplants were invited to be a part of this show. The lead female vocalists include Joi Gilliam, Sonja Marie, Georgia Anne Muldrow, and Jimetta Rose. Both Gilliam and Marie have careers to spans music and theater.
"Challenges?" he asked incredulously. "Their only challenge will be getting out of their own way and allowing the brilliance of Nina to flow through them. That's their only challenge," Dexter said.
"Sonja Marie kind of straddles the fence between soul music and spoken word, who has been blazing her own trail," Dexter explained.
"Then there's Georgia Anne Muldrow who is the same thing. I used to play with her dad (the legendary jazz saxophonist Ronald Muldrow). Dexter said he used to practice "at her house when she was 8 or 9 years old with that little girl running around with her brother."
Then there's Joi Gilliam. Dexter knew Joi when he was working with 1990s hip hop pioneers, Goodie Mob.
"I would go out to hear her sing and she would come out half dressed delivering the most powerful vocals definitely and doing it her way and still performing at a high level," Dexter reminisced. " But she would give you something else to think about in her presentation."
And lastly, there's Jimetta Rose, a Los Angeles songstress who also had performed at the "Go With Gil" tribute last year.
"I think she is the baby of the group," Dexter said. "She has the same opportunity right now. She's not really neo-soul but rather the future of soul music, but she really has a jazzy voice. When she's ready, she won't have to sing any more r&b. She can go straight to singing standards and the stuff that Nina did in her early works and just kill it. She has that type of persona and strength. And what an honor it is to paint the picture of Nina with these four women," Dexter explained.
At the last minute, Dexter added two more vocalist to the line up, including Waberi Jordan and Patrice Quinn.
"They're high priestesses in their own right, Dexter said of the additional vocalists.
Though Nina may have considered herself a folk artist, her skill and talent allowed her to express the soul of black folks through a classical training that few have. I wondered how Dexter would address that. Dexter noted an interview Nina conducted in the 1990s where she was asked about her rejection from … In the interview segment she cried, still feeling the sting of rejection more than 60 years after it happened.
To fully pay proper tribute to Nina, Dexter said he made sure he surrounded the vocalists with the necessary talent to express all aspects of Nina's music. Among the heavy hitters he has enlisted includes: Verdan Ovsepian an Los Angeles based pianist who is just as at home playing classical music as he is playing jazz is set to perform some Johann Sebastian Bach selections, a classical composer from which Nina drew inspiration. Dexter also enlisted the the talents of bassist Jacques Leseur and percussionist Jamire Williams.
Dexter's excitement for the show was both palpable and infectious the more he spoke about it without giving me any details of July 5. But with the level he's going to have on hand, we don't need to know. We just need to show up well in advance of 8 pm at the California Plaza. This isn't a tribute you want to miss.
Details: http://www.grandperformances.org
Venue: California Plaza
Location: 350 S. Grand Ave., Los Angeles